Xenical is a medication designed to treat obesity and complications with fat accumulation that may cause harm to one's health. Xenical works efficiently on the digestive system, making sure the body doesn't absorb up to 30 percent of fats one consumes. As a result of the treatment with Xenical, one can lose weight significantly.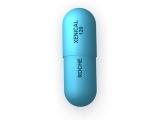 view all offers
4 ed pills as a gift
free shipping from $150
delivery inshurance
Please, consult with your doctor, or other qualified health care professional before using any product discussed within this website.
Drug Class:
Antiobesity drug
Active Ingredient:
Orlistat
Available dosage:
from 60MG to 120MG
Pack size:
from 10 to 270 pills
Three Most Popular Facts
Xenical was introduced to the world's pharmaceutical market in 1998. Since then, it has become one of the most popular treatments for obesity throughout the world. By year 2020, more than 1 million people have been using Xenical as a medication for weight loss.
Did you know that most Xenical users combine taking the medication with a diet? In fact, 50 percent of Xenical consumers follow a very strict calories-reducing diet while at the same time engaging in a physical activities program. Using this combined method, users manage to successfully lose around 5 percent of their weight in the course of a year. 5 percent seems little, but in fact that is the exact amount that constitutes what is known as clinically meaningful weight loss. That is to say, when you reach 5 percent of weight loss, you significantly reduce the risk of cardio-vascular diseases, various forms of diabetes, cholesterol-related diseases, among others. It is also estimated, that individuals who were taking Xenical and were following diet while exercising, lost on average 3 kilograms of weight more than those who only dieted and exercise.
The counterfeit market targeted Xenical once in the famous case in 2010. The FDA investigated the case where they found out that there was a counterfeit version of Xenical which did not contain any orlistat. What did it contain? Another weight loss active ingredient called sibutramine. The latter was concentrated in twice the amount that was supposed to be taken.
Five Frequently Asked Questions by Customers
How much weight one can lose on Xenical?
While Xenical is one of the most efficient treatments for losing weight, the actual weight loss may not be so striking at the end. An average consumer of Xenical would lose several pounds at the end of the treatment, which would be just a few pounds more than he would lose with a help of a healthy diet and regular exercise.
How does Xenical goes with a healthy weight-loss plan?
Xenical hasn't claimed to be a surefire answer to a weight loss problem. Losing weight and making sure it stays off the organism requires a serious commitment, specifically, to consume a healthy diet and engaging in regular physical activities. A user of Xenical is recommended to consult with a physician to evaluate benefits and risks of Xenical before getting on it. The thoroughly envisioned combined program of weight loss that would include both medications and lifestyle changes will be a way to go.
How long do I need to take Xenical?
A thoroughly planned diet, exercise and drug therapy is widely taken as a successful one if you lose around 1 pound (or 0.5 grams) in a week during the first month of implementing the program. They yearly result of successful weight loss treatment would be considered at around 5 percent loss of the overall body weight measured before the treatment starts. If the treatment is successful, you are more likely to keep weight off or lose more weight if you continue with the diet, exercise and drug treatment plan.
It is important to know that the most of the wight-loss would be achieved within first 3–4 months upon the start of the treatment. If a user would reach the goal of 5 percent loss during these few first months, the later use of the treatment with the medication may not bring further significant results. On the other hand, if you have not reached 5 percent of weight loss within a year from the start of the treatment, consider discontinuation of taking the medication because the overall efficacy would hardly be improved.
Who can use?
Adults over the age of 18 who have a body mass figure at 30 and higher can consider taking Xenical. How do you calculate a body mass figure? Very easy,- take your weight and divide it by your height in square meters.
Is it necessary to stay on Xenical for life?
While there are some users that opt for staying on Xenical for long term or even for life, we would recommend to try the treatment with the medication for 3 to 6 months first and see if it helps. After that you can consider staying for longer terms. The medication has proven to be safe when taking in whatever long term.
How Much Does Xenical Costs?
Currently, the pack of branded Xenical of 120 mg dosage costs online $0.80 per pill or unit for 168 pills or units.
The pack of generic (orlistat) Xenical of 120 mg dosage costs online $0.57 per pill or unit for 168 pills or units.
Xenical (orlistat) Coupons and Rebates
Xenical coupon and rebate offers are issued in the form of printable coupons, rebates, savings cards, trial offers, or free samples. Some of these offers may be printed straight from a website that issues them, while other offers would require registrations. Sometimes completing a quick questionnaire would be required, yet other offers would require obtaining a sample from the medical specialist's office.
How Does its Work?
Xenical works by effectively blocking portions of the fat that you consume from being absorbed by your organism. Our organisms produce lipases, small molecules that are breaking down fat that we consume with food. Xenical's active ingredient is inhibiting pancreatic lipases that target triglycerides in the intestine track. In the absence of these lipases, triglycerides that are coming to our organisms with food are not absorbed and instead go into excretion as all undigested food go. In total, Xenical would be blocking around 30 percent of the overall fat we receive with food. While consuming fewer calories, our organisms would subsequently go for our storage of fat and would later utilize it for producing the necessary amount of energy.
Is Xenical Right for Me?
If you are being overweight, and sticking to a healthy diet and exercising haven't helped you in losing weight, then you might adding weight loss medications like Xenical into the package that would be right for your goal of losing weight. Make sure to see a medical specialist about the overall weight management program that would include weight loss medications. Please remember that Xenical alone can hardly be an efficient treatment alone for your obesity. Any doctor would still recommend combining taking Xenical with regular exercise and following healthy eating routines. If you are not sure you are overweight, consider calculating your body mass index (BMI) while taking your height and weight into consideration. A body mass index of 18.5 to 24.9 is generally considered a healthy weight. If your numbers go higher than that, you are being overweight.
How to Take?
Follow the directions on the package for administrating this medication provided by your doctor. This medications is best to be taken with food that contains fat. Xenical is manufactured in a capsule form. The medication is taken by mouth 3 times a day, with food that contains fat. The medication can also be taken up to one hour after the meal was consumed. If you consuming food that doesn't contain fat, your physician may advise you to not take it.
It is crucial to follow a low-calories diet while taking Xenical. If you consume a lot of fat, you are likely to have adverse effects related to your digestive system. Consider choosing leaner cuts of meat, low-fat dairy products like milk and yougurt. The rule of thumb for successful treatment with Xenical regarding your diet is having not more than 30 percent of calories coming with your meal being in fat.
It is highly recommended to take vitamins A, D, E, K, and beta carotene daily together with Xenical. This is with the effect of blocking fats that comes with Xenical. While blocking fats, the active ingredient also prevents these vitamins from being absorbed, as they all are fat-soluble. Make sure to not take all of your vitamins and Xenical at the same time of the day.
Warnings & Precautions
Make sure to inform your physician if you are allergic to Orlistat or have any other allergies;
Avoid a high-fat diet while taking Xenical;
Under no circumstances take Xenical if you have inability of absorbing foods;
Make sure to follow diet and exercise regularly while taking Xenical;
Calculate your intake of carbohydrates, fats, and proteins and make sure these are properly balanced in your diet;
Inform your physician if you have liver or kidney diseases, diabetes of any form, or complications with your endocrine system;
If you overdose, seek medical attention immediately. For non- emergencies, call your local or regional poison control center at a free toll number 1-800-222-1222.
Side Effects
Side effects of taking Xenical are usually mild and quickly passing.
However, it is important to inform your physician if you experience following side effects of using Xenical:
Headaches;
Pain in rectum;
Fecal Incontinence;
Increased number of bowel movements;
Pain in stomach or chest;
Irregular menstruation;
Itching;
Skin reddening;
Seizures;
Yellowing of skin;
Lightly colored stooling;
Cold sweating;
Darkly colored urine;
Nausea;
Vomiting;
Difficulty in breathing;
Fever.
---
Disclaimer: Please under no circumstances use the information provided on this webpage as a substitute for the advice of a healthcare specialist, or as a recommendation for any particular treatment you might consider. The information featured on this webpage is strictly intended to be used as a reference. We provide no warranty or guarantee regarding the accuracy, integrity, or appropriateness of the information published on this website for any purpose. We expressly exclude liability for any inaccuracies or errors to the fullest extent permitted by local law. By using the website, you accept the above-mentioned statements.